To our Siegelord wiki contributors,
Thank you for your support and contributions to this community. In return, each contributor will be rewarded with in-game resources or Diamonds. Please check the following rules.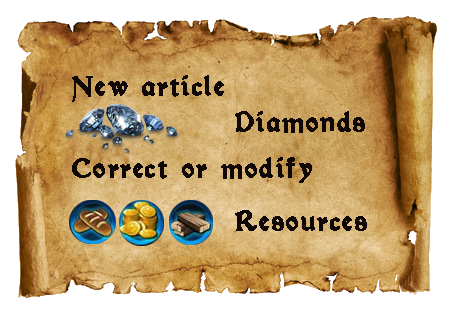 For each new article added, the contributor will be rewarded with 200 Diamonds. A new article is defined as a new player's guide, gameplay introduction, event introduction or other similar posts with more than 500 characters. Duplicated topics or meaningless contents will not count.
For each correction or modification to an existing article, either written by you or others, the contributor will be rewarded with 15k basic resources, i.e. Gold, Timber and Food.
The rewarded players list will be announced once a week (every Wednesday). You may check the list on the Siegelord Facebook post or on this page. Usually, all rewards are sent within 3 working days after the announcement and directly to your account. For any issues such as incorrect account information or other, please contact our GM by sending a support ticket or replying under the Harvest day post on Facebook.
We highly recommend you to be a registered wikia user so that we can trace your contributions. Remember to login every time you make any contribution and to leave your IGN and server either in your new article or in the pop-up summary window.
Please follow Community Policy and if you have any question, please feel free to contact an Administrator.