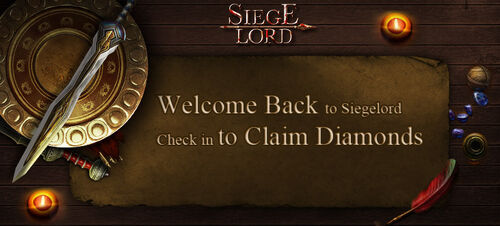 Event time: April 24th 00:00 to April 30th 23:59 (EDT)
Description:
1. During the event, you can get a gift code by checking in on the event page and then going in-game to claim your rewards.
2. Every gift code is available only for 1 day. 
E.g. Gift code for the 1st day is only available on Apr.24th(EDT). So claim your rewards ASAP.
3. Check in rewards change each day. Some gift packs even contain diamonds, so don't miss out!
4. Player's who haven't logged in since April 14th will receive bonus gifts.
5. You can check your rewards record by clicking "Check Your Rewards". All gift packs or rewards are fixed and cannot be exchanged into either cash or other in-game resources or equipment.
6. When the "Check in & get rewards" button turns gray, it means you either have already claimed the code or the day in question has expired.