This is an interesting event which can test our memory. What's more, we can get free diamond from this event!
You can click this link to watch how to get free Diamond.
You also can follow the picture guidance step by step.
Step One: Click this link to open the event. 
Step Two: Click the event 01 now.
Step Three: Like one resource to got one chance of gaming then click"game start" right now.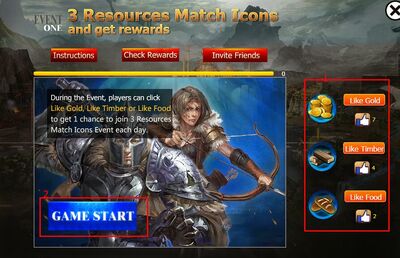 Step Four: If you turnover the same SIX card within 3 seconds, you will win a Siegelord Diamond Pack in which 100 diamonds are packed for you.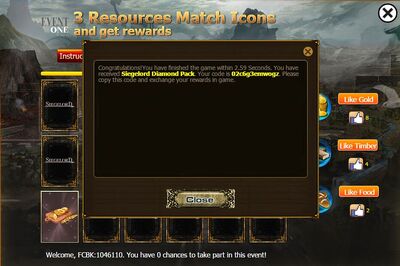 Step Five: Open the game then redeem the pack with the code.
This event is available during Dec.19th,2014-Jan.2nd,2015 but you have only one time each day for getting the diamonds. There are twelve days left which means if you won the Siegelord Diamond Pack every time from now on. Remember to turnover the resource quickly, you can just get other rewards like gold or food if the turnover time is longer than 3 seconds. If you want to get more game chance, you can click Event 2 to invite more people to click the link you shared.